Famous Australian specialist, Red Cawte is able to build or machine quite everything you would need for your Laverda, with skills and technology level second to none.
He is the builder and sponsor of one of the most performant team of the moment, the OZ Laverda racing team (website: http://www.ozlaverda.com/portal.php).
Although Red can build, restore and tune any Laverda, he also manufactures ready-to-bolt-on kits for road or race bikes such as ignition kits, modern carbs kits, special exhausts, billet aluminium parts, etc...
Any question or enquiry, click here
Ignition/alternator combo for series 1 1000cc and 1200cc

Original Bosch ignitions and charging systems (called HKZ) are notorious for their problems: low charge level, no real ignition advance curve, fragile pick-ups wires...

On the same basis than the IIS system some years ago, Redax engineering has conceived an ignition/alternator combo, including a powerful and programmable Ignitech ignition, and a strong 320 watts Nippon-Denso alternator. The whole system takes place under the RHS ignition cover, which is an impressive technical performance.

Of course, Redax engineering has ignition kits for any other Laverda model, being representative of Ignitech.

Billet aluminium

Redax engineering manufactures billet aluminium and CNC machined parts:
* Billet cam bearing blocks
* Inlet stubs, straight or 10° angled (32 to 36mm, special sizes on special order)
* Front forks brackets for 500, 750, 1000 et 1200cc
* GSXR wheels kits for Laverdas
* etc...
Crankshaft rebuild and repair

Redax engineering rebuilds or repairs any sort of Laverda crankshafts, from the usual original type crank to the lightened, polished and balanced racing crankshaft, everything is possible

Here is a lightened cranshaft, coated with a thermal barrier and equipped with Carillo conrods, built on special request for the OZ Laverda racing team.

Mikuni RS36 kits for 1000 and 1200cc all models
Redax engineering is proposing whole Mikuni carb sets, especially built for the 1000 and 1200 Laverda triples. These carbs, more modern and precise than the old Dell'Ortos were OEM on some sport bikes as Suzuki GSXR, they allow to gain power , torque and smoothness while lowering fuel consumption.
You have the choice between the whole set (ready to fit) or only the parts kit needed to build your own set (you have to get the Mikuni carbs by your own way).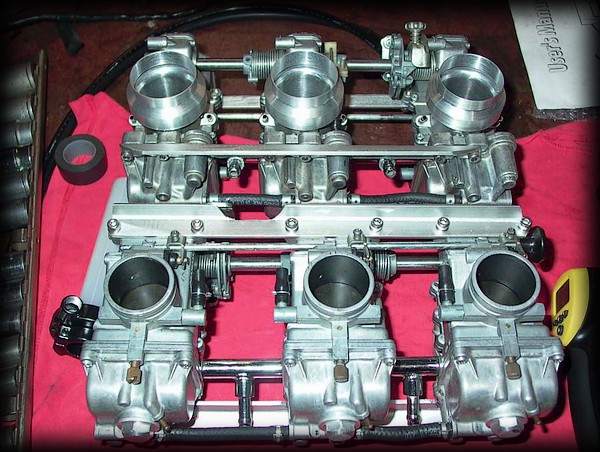 Billet hydraulic clutch cover for 1000 and 1200 all models
Laverda clutchs are well known to be firm and the later hydraulic systems have many culprits, are hard and to find in good state and are expensive. The new Redax clutch cover is the only way to get a "2 fingers" clutch action, resolving all the problems of the original systems. Beautifully CNC machined in strong aluminium, it can replace all the original cable or hydraulic systems. Associated to a Brembo PS13 master cylinder, it finally allows a light clutch action.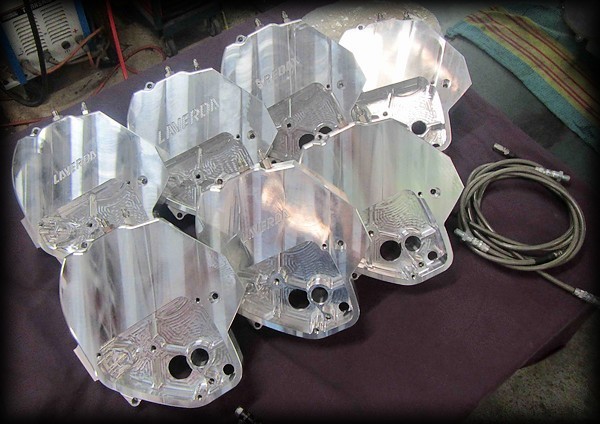 Race bikes construction
Redax engineering builds the race bikes used by the OZ Laverda Racing Team, great competitor of the Australian PCRA championship. Red Cawte can build the whole machine (engine and chassis), the engine only or only the parts that you would need to equip your race bike.